Many customers email us every day asking what exhaust is most suitable for their car. For this reason, we have written this short guide that covers everything you need to know before deciding the right part for the job. More specifically, in this case study we are focusing on the Milltek exhaust system options, however many points in this article will be relevant when considering other aftermarket exhaust manufacturers. If you'd like to find out more about Milltek, check out their website.
The Sound
There are many factors that determine what your stainless steel exhaust will sound like. Luckily for you, Milltek have made this decision much easier by offering the option for a resonating silencer on your system. A resonated system contains a chamber specifically designed so that when the sound made by the engine enters, the waves bounce around in the chamber, cancelling out certain frequencies of sound. This results in a cleaner and quieter sound leaving the end of the exhaust. Although your exhaust will be quiet, it will still produce a nice note. The biggest advantage of the resonated system is that there will be much less 'droning' when driving at constant high speeds, i.e. on the motorway. We would recommend a resonated system to someone who wants to have a good exhaust note but doesn't want the droning sound under load!
The parallel of this is an exhaust system without a silencer. A non-resonated exhaust like this contains almost all of the same pipes, except the front silencer. In its place is a front silencer delete pipe which simply carries the gases and sound waves straight into the cat. As you can imagine, this makes the exhaust a lot louder as there is no resonating chamber as we previously mentioned. The true downside of this set up is the droning sound that is produced when driving at high speeds. This can put many people off a non-resonated exhaust, but some people do prefer the louder tone when there is no silencer.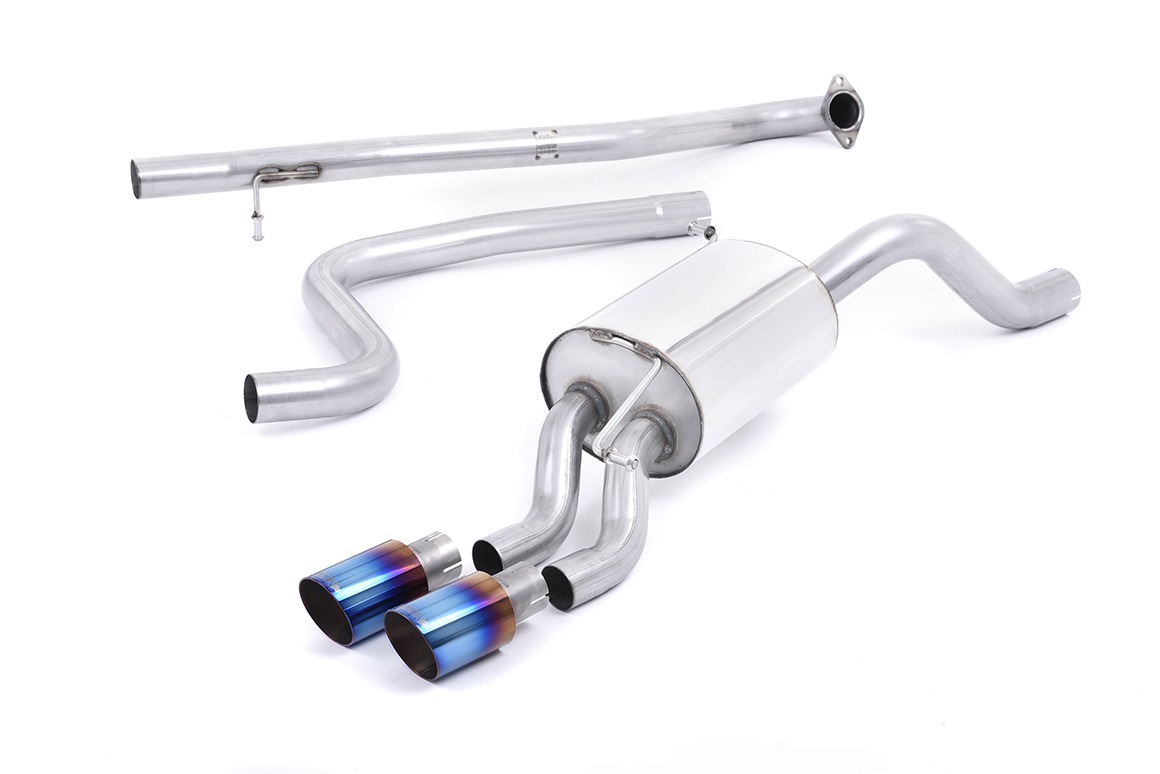 Now for the tip
The tip of the exhaust seems quite self explanatory. The exhaust tip is the end of the exhaust that you can (usually) see from the rear of the car. Milltek offer 5 unique exhaust tip options: Cerakote Black, Polished, Brushed Titanium, Burnt Titanium and Carbon Fibre. Tips vary in price due to the material used, but all of them are of good quality and are easy to keep clean.
 Where to buy your Milltek exhaust system
We sell all Milltek exhaust systems directly, so if you're planning on having your vehicle tuned, you can get your new aftermarket exhaust system fitted at the same time. This will save you time as well as making sure your car receives high quality fitting. We can also ship this exhaust direct to you or garage of your choice. You can use the button below to enquire about getting your own Milltek exhaust system, or simply to find out more.